I was in the mood of messing with real hardware beside all the fpga stuff. Since I'm interested in retro hardware I bought a C64 breadbox from ebay.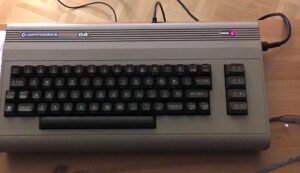 The shell was pretty okay but unfortunately all that I could see on the screen was the message "out of memory error in 0".
Fortunately that seems to be a common problem and the web is full of repair tips. The DRAM seems to be at fault and after 30 years it might make sense to replace it.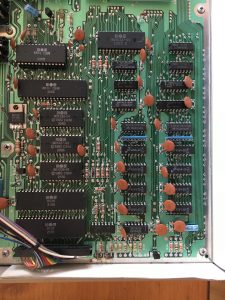 The best is to replace all chips but there are quite a few tips on how to detect which chip might be broken. If you see random characters on the screen you might determine which bit isn't okay and which chip is responsible for it.
The output of my C64 was fine and all I could see was the error message. I decided to replace all eight RAM chips and put the new ones in precision IC sockets. This way I could easily swap them if necessary.
Now its time to get the solder iron and the desoldering pump to remove the solder and the chips. But that wasn't so easy as I thought. I first added solder again to reflow the solder and then removed it with the pump. Even though it looks like I was able to remove a lot of solder I couldn't remove the chips. The main problem were the connections vcc and ground. The circuit paths are so thick that they suck away all the heat.
As I didn't want to keep the RAM chips I cut through all pins with a side cutter. Afterwards it was easy to remove most pins from the board but still the vcc and ground pins gave me problems. I heated it up for seconds which isn't good as all capacitors in the near went really hot. Fortunately the ceramic capacitors could take a lot of heat and thus they still worked afterwards.
Soldering the IC sockets was easy. Afterwards I put in the new DRAM chips which I got from ebay. And guess what. My "new" C64 worked on the first try! 🙂